Chelsea receive boost to sign PSG star Neymar as soon as new owner Todd Boehly takeover is completed
Chelsea could benefit from PSG's willingness to sell Brazilian superstar Neymar if the right offer is made, according to GOAL, new owner has to made his intention known about bringing Neymar to the Stamford Bridge this summer transfer Windows.
PSG recently extended the lucrative new contract of Kylian Mbappe and have successfully prevented their young sensation from joining Real Madrid. Neymar, on the other hand, could be affected by the club's alleged willingness to let him go in order to balance the books.
The former Barcelona forward has netted 13 goals and assisted eight others in 28 appearances for the Parisiens this season. Although the 30-year-old has been plagued by injuries for most of the season, his stats are still respectable.
In spite of PSG forward Neymar's stated desire to stay, there appears to be a belief that the club may choose to move on. Chelsea's reaction to this is still up in the air.
Takeover negotiations are underway at Chelsea, and the club will enter a new era of ownership under the new management. Stamford Bridge's new owners may want to make a statement signing in order to show their presence at the ground.
To put it simply, Neymar's statement signings are the best. Chelsea's new ownership would be well-served by bringing in one of the world's most famous footballers, such as the Brazilian.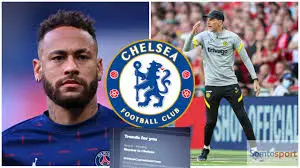 Chelsea will benefit greatly from the signing of the Brazilian, both on the field and in terms of marketing. Even so, the Blues will have to weigh the costs and benefits of the deal before committing.
Neymar isn't necessary for Chelsea's attack because they have a wide range of forward options to choose from. Neymar, on the other hand, is a completely different proposition and is capable of winning matches on his own.