John Terry praises Conor Gallagher last night
John Terry was quick to congratulate Conor Gallagher following his successful night at the Crystal Palace award ceremony.
The on-loan Chelsea midfielder enjoyed a delightful evening at Croydon Boxpark, where he picked up one of the top prizes.
Gallagher and Guehi sweep up
Gallagher was voted Palace's Player of the Season, ahead of Tyrick Mitchell and fellow Cobham academy graduate turned Eagle Marc Guehi.
Guehi did also stand up on stage with an accolade to his name, earning the Players' Player of the Season accolade.
Not a bad haul at all from the two players born into blue but have made a name for themselves elsewhere across the country.
Both of their contributions will be greatly remembered by Patrick Vieira and those stationed in and around Selhurst Park.
And neither will forget in a hurry what the club have done for them and their careers.
One-half of the pair made sure to show appreciation towards Palace by thanking them via a social media message.
Because Guehi does not own an Instagram account, that duty went to Gallagher, who acknowledged everyone who has supported him throughout such a terrific campaign.
He gathered several kind replies back, mainly from Palace fans, but also received a few connected to the Blues as well.
Terry sent his congrats, whilst Tammy Abraham applauded his former colleague in emoji form.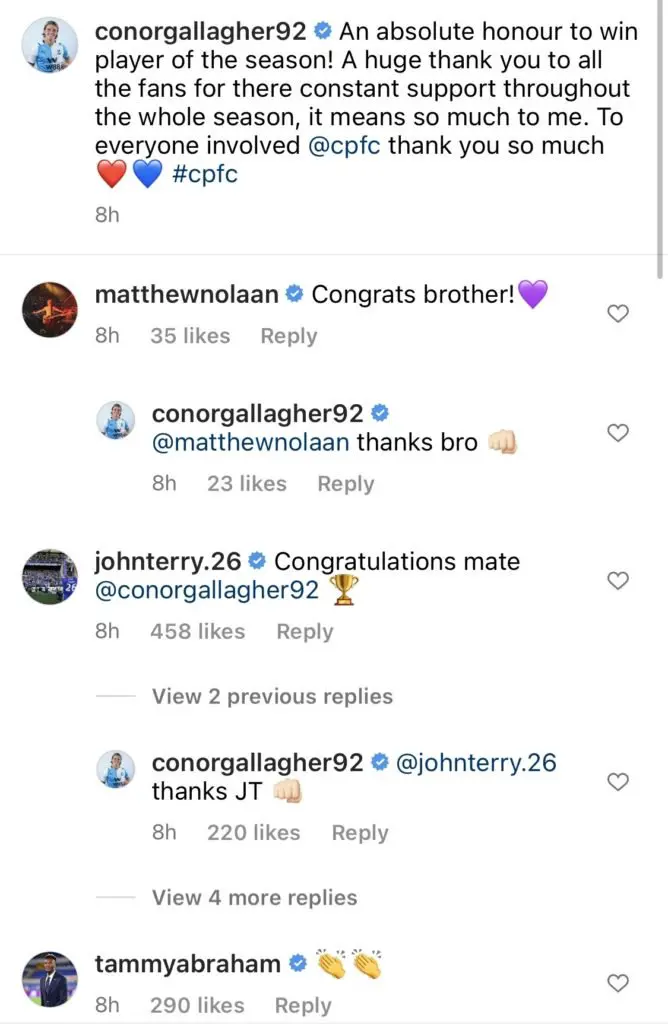 Is this the last dance for Conor Gallagher?
This might be one of the last times Gallagher can upload about Vieira and his troop, as he prepares to potentially head back to Stamford Bridge.
The 22-year-old is heavily being tipped to re-join Chelsea next season, following such an impressive stint on the other side of London.
Thomas Tuchel has already given his blessing for the young midfielder to return over the summer.
Yet, the route to Tuchel's senior squad may be blocked by several obstacles.
Palace have reportedly made an approach to sign Gallagher permanently, a completely understandable request given his importance to the team.
Other suitors could also attempt to muscle in once the next transfer window opens up.
But Chelsea will be given the final say, one we hope involves restoring Conor to the fold.